Emerald Moth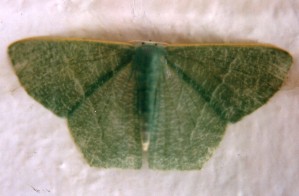 EMERALD MOTH: Family Sphingidae
Description:
Cryptically coloured adults, often brown like tree trunks, or green like leaves (thus 'emerald').

Caterpillars are called 'loopers'.
Found:
Additional Information: Courtesy of Damon Ramsey
Family Geometridae
The family contains the small 'inchworms' or looper caterpillars that later develop into many of the small and medium sized moths that lay flat against trunks in the Daintree and most other parts of the world.

They are often coloured in browns or greens (emerald moths) to blend in with the tree trunks and the lichen.