Lake Barrine Walk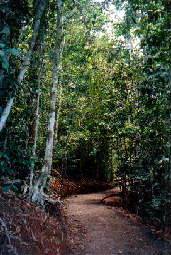 Lake Barrine Walk:
This is a short walk, beginning at the picnic and swimming area of the lake. The path is well constructed with a bitumen surface leading to a wooden platform built close to each tree trunk with interesting information posts describing the trees' history and importance to their environment.
Perimeter Walk:
A continuance of the Twin Kauris walk will lead eager walkers to begin the six kilometre perimeter walk of Lake Barrine (1213Ha).
It is recommended that at least one and a half hours be allowed to complete the walk.
Common sightings include the Musky Rat Kangaroo, Carpet Python, Water Dragon, Ulysses Butterfly and prolific birdlife.
Although 6 km long, the walk is still quite leisurely, with wooden benches placed at the lakes edge offering a wonderful view of the tea house, whilst you relax and catch your breath.