Lake Euramoo
(Ngimun)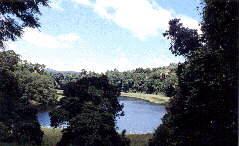 Geological History:
Lake Euramoo is an extinct volcanic crater lake filled with cool, clean, crystal clear water, surrounded by lush tropical highland rainforest.
Massive blocks were thrown up as a phreatic explosion created this maar.
General Information:
The Danbulla State forest drive via Boer Pocket Road will take you along to Lake Euramoo.
This lake is contained in a double explosion volcanic crater.
Being one of the youngest geological features in the Atherton Tablelands, it is though to be a little older than ten thousand years old.
Euramoo is quite a large lake, with a viewing platform looking out over the water and its surrounding environment but there is no access to the water's edge.
There is also an interpretative sign giving you basic background information on the lake's history and present features.