Lake Eacham Perimeter Walk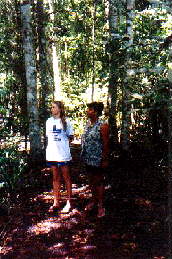 Lake Eacham Perimeter Walk
The Lake Eacham perimeter walk extends for 3km around the crater lake. The walk begins close to the lake's edge at the northern most end of the car park. It is an easy, all weather walking track with many spectacular examples of the elk and staghorn ferns, strangler fig trees, lawyer vine (wait-a-while palm) and tree fern plants. Along the length of this walk you are also likely to see some excellent examples of fungi such as the bracket fungus.
The walking track is a thick layer of leaf mould with a bituminised surface underneath, which enables wheelchair access and makes for an easier walk all round.
Track damage does occur after storms but is soon removed with the maintenance done on the track.
There are turtle viewing platforms near to the end of the walk, where you are also more than likely to see some Bearded Water Dragons and the fish which inhabit the waters of the lake.
Feeding of the fish and turtles is not permitted.
Fishing is prohibited.
Allow approximately one hour to fully experience what the Lake Eacham Perimeter Walk has to offer.

Additional Lake Eacham perimeter walk photos;
Lake Eacham Self Guided Walk
The Lake Eacham self-guided walk is approximately 700m long and will take approximately 30 minutes to complete. The walk extends from the National Parks Headquarters to the lake's edge with 16 points of interest along the way.
It is an easy and informative walk which will give you an insight into the local animals and plants of the rainforest.
How to get There
The Lake Eacham self-guided walk originates close to the Crater Lakes National Parks Headquarters.
Therefore, getting there is very easy from The Chambers. You can go for a short walk down the drive from the Apartments and turn right to take you to the headquarters and then a left to go down the short roadway.
The path begins about 50m away from the main roadway and is found on the right hand side of the road.
Prior to your commencement of the walk, there are some self-guiding pamphlets found in a little box on the right. Take one of these. It will relate the things that you see on the walks and interpret them for you.

Additional Lake Eacham Self guided walk photos;