Lesuer's Frog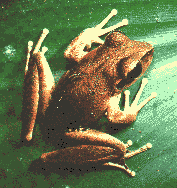 Photo: C & D Frith
Australian Tropical
Reptiles & Frogs
Other Names: 'Stony Creek Frog': Litoria lesueri
A predominantly terrestrial amphibian
A powerful leaping frog, it may be encountered a fair way from water.
Upper colouration is variable from pale fawn through to a dark brown colour. Males can also become quite yellow.
Habitat:
These frogs are tolerant of habitats from heath and dry sclerophyll forests to heavy wet rainforests.
However they favour shallow rocky streams.
Size:
At a maximum of seven centimetres, the Lesueur's Frog is the largest of the Litoria species.
Call:
The male call is described as a gentle purring trill repeated in a time span of two or three seconds, heard sometime during the daylight hours.
Additional Information: Courtesy of Damon Ramsey
It has a darker brown stripe from the snout and through the eye and over the distinct tympanum.

There seems to be two types of the same species which are found all the way along the east coast of Australia.

The tropical North east Queensland form is a bit smaller, coloured leaf brown to quite bright yellow in breeding males.

They have white undersides with black and either blue or yellow patterns on the back of the legs serving as the 'flash colours'.

The North Queensland form of this species has some interesting reproduction behaviours: after mating on the bottom of a stream underwater, the frog makes a small circular nest in the sand and leaf litter at the side of small freshwater stream, and lays the eggs inside (Barker et al 1995).

It seems to be one of the more common adaptable frogs and can be found in a range of habitats and situations including around close to urban and rural areas.

As suggested by the common name both forms are indeed often found along stony creeks beds, in gullies, and along rocky dirt roads and tracks in the tropical rainforest.
Script: Courtesy of Damon Ramsey BSc.(Zool) Biologist Guide
Additional Lesuer's Frog Photos