Mossman Gorge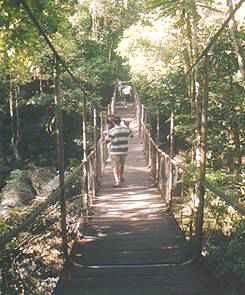 Mossman Gorge
Mossman Gorge National Park provides a nice, easy and accessible introduction to tropical rainforest. Ideally, it is best experienced first thing in the morning, while the birds are calling, and before too many people arrive. Tour groups begin to arrive as early as 8.30am. Avoid hot summer afternoons, especially on weekends.
Right at the entrance of the park is the Mossman Gorge Aboriginal Community, who also conduct excellent guided walks on Aboriginal life in the rainforest. The drive into the park is through a very attractive tunnel of rainforest. The large pipe that can be seen on the left is directing water from upstream to the towns of Mossman and Port Douglas. In the summer, the spectacular Buff-breasted Paradise Kingfishers can sometimes be seen flying across the road, their long white tail streaming behind them, before they disappear into the forest. Chicken-sized Orange-footed Scrubfowl and Australian Brush Turkeys can also be seen on the side of the road. The pretty Mossman River can be seen on the right, with it's huge granite boulders.
At the end of the road is the main car park, with a picnic area and toilets in the building to the right. As is quite often the case, the picnic area itself is sometimes a good place for rainforest plants and animals. A great example of a rainforest tree is right next to the toilets, with 3 species (Stonewood, a Fig, and an Umbrella Tree) intertwined and on top of that other epiphytes such as a Fagrea, a Hoya vine, bird's next ferns, other ferns, and no doubt several different types of alga and lichens growing on top of that. Most obvious of the rainforest animals are the 'Australian Brush Turkeys'. Being scavengers that eat almost anything, means that they are often hanging around the picnic area for left-overs. Other birds that are commonly heard or seen flitting around the picnic area, especially earlier in the morning, are the Grey Whistler, Little Shrike-thrush, Yellow-Spotted Honeyeater, Grey Fantail and Yellow-breasted Boatbill.
There are two walks leading from the carpark. Both tracks connect up to each other. The one on the right leads to the river, and is slightly longer. The track on the left leads more directly through the jungle. After both tracks join up they lead past several small detours down to the Mossman River with views. One short track leads to a nice sand beach. The track then heads to a small suspension bridge built by the Australian army. Past the bridge, there is a much longer circuit walk that takes about an hour at a reasonable place.
Plants on the Mossman Gorge tracks include the usual large leaved Gingers and Wait-a-while, but this also a good place for the 'Chain fruits' (Alyxia). In spring, the small fungus-like Balanophora can often be seen amongst the tree roots on the side of the track and sometimes between the stairs leading up to the bridge. In summer the track is also a good place for spotting 'Boyd's Forest Dragons', prehistoric looking lizards clinging on tree trunks. On some mornings if quiet, Elseya turtles can be seen basking on the giant boulders in the middle of the river. They will often fall into the water with a loud 'plop'. Fish can usually be seen in the creek, the largest being the 'Jungle Perch'.
Script: Courtesy of Damon Ramsey BSc.(Zool) Biologist Guide