Eastern Grey Kangaroo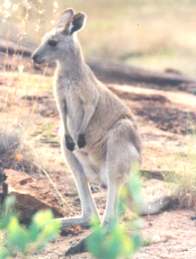 Eastern Grey Kangaroo: Macropus giganteus
This is the species that most people probably think of when they hear the word `kangaroo'.

This is especially true for most Australians, as this species and humans share the same geographic distribution in the urbanized south-east and along the east coast.

And of course, the television kangaroo "Skippy' was an Eastern Grey Kangaroo.

As with many of the other kangaroos and larger wallabies of this genus, most have done well with the arrival of Europeans and the opening up of farm lands.

Counts in the south-east regularly result in numbers over a million, and it is only really in Tasmania where the populations are low enough to be of a concern (Strahan 1998).

As with the other open range, larger kangaroos, Eastern Greys usually live in groups.

Nevertheless, for a sociable animals, they tend to be fairly quiet, with only the occasional harsh cough from threatened or aggressive individuals.

Courtship and sex is sometimes a complex affair, with fighting between competing males.

Sex has been recorded at lasting up to 50 minutes in this much-watched species (Strahan 1998).
Kangaroos and Larger Wallabies: Macropus spp.
This genus includes a large range of kangaroos and the larger wallabies.

A species of this group can be found in practically every part of Australia, except in the denser forests, where the smaller wallabies are more suited for the closed environment.

This group is relatively recently evolved (Archer et a12000), having appeared to take advantage of the increasing open grasslands that appeared as Australia's prehistoric rain forests receded with increasing aridity (White 1998).

Much of their biology and behavior are adaptations to these open, more arid environments.

They are usually grazers, with fresh grass shoots after fire especially favored.

They usually rest in the shade under trees or shrubs during the heat of the day, then come out to feed in the more open areas during morning, afternoon and night (Strahan 1998).

Their efficient hopping locomotion allows them to cover large distances in search of new food and water if necessary.

Unlike many marsupials, the arrival of the Europeans has not had an adverse effect on the populations of these kangaroos and wallabies.

The conversion of Australia's landscape for farming resulted in both the clearing of forests, and thus the further opening up of the environment, and the addition of watering points for stock.

In fact, the result has been a probable increase in numbers in these species, to the point where many farmers see the increased numbers as a threat, and culling is a common practice.
Script: Courtesy of Damon Ramsey BSc.(Zool) Biologist Guide