Lemuroid Ringtail Possum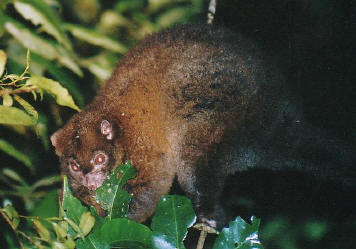 Photo: Courtesy of Damon Ramsey
BSc.(Zool) Biologist Guide
Lemuroid Ringtail Possum: (Hemibelideus lumuroides)
Woolly grey dorsal side, brownish tinge on the shoulders with a yellowish tinge on the underside.
Tail is bushy, only slightly tapered with a short finger-like, bare tip.
It has a short face with a bright yellow eye shine.
Leaps onto foliage.
Sparse and limited in distribution.
Adults of both sexes have a strong musky odour produced by a sticky cream-coloured fluid that is often excreted from the vent when the animal is handled.
Habitat:
Invariably arboreal. Lives in the rainforest at about four hundred and fifty metres altitude.
Strictly nocturnal, its days are spent in tree hollows.
The Lemuroid Ringtail Possum has a leap of two to three metres, which is made from one branch tip to another. Legs outstretched, it lands heavily on dense foliage.
Diet:
It is almost exclusively a leaf eater, feeding specifically on the foliage of the families Lauraceae (e.g. Queensland Maple), Elaeocapaceae (e.g Brown Quandong) and Rutaceae (e.g. Bollywood).
It also eats flowers of the Brown Bollywood and the fleshy outer covering of the Yellow Walnut.
Social Behaviour:
These animals are frequently seen in groups of two or in family groups of three.
Up to three individuals may share a den.
Feeding aggregations of eight individuals have been recorded.
Viewing Opportunities:
The Lemuroid Ringtail Possums tend to stay in rainforests above 900 metres.
When spotlighting, densities of 2 to 5 per hour are common but up to 10 per hour have been recorded at altitudes of 900-1200m.
They can be viewed with spotlights in the Crater National Park.
Breeding and Rearing:
Breeding season is more restricted than that of other rainforest ringtails.
Usually only one young is reared, but there are 2 teats in the pouch.
Pouch young have been recorded from August to November, and seen riding on their mothers' backs from October to April.
If a young possum is separated from its mother, it will signal its distress with a thin, high-pitched hissing squeak.
Additional Information:
These possums are also known as Brush-tipped Ringtail Possums and Lemur like Ringtail Possums.
Their average weight is 810-1270g.
While Carpet Pythons are known threats to the Lemuroid Ringtail Possums, rainforest clearing is the greatest problem. It seems to be the least able of rainforest possums to survive in remnant patches of forests. Their status is sparse and limited.
Additional Information: Damon Ramsey
The Lemuroid Possums are usually fairly dark possums with no real distinguishing colours, being greyish brown.

Their most distinctive feature is probably their bright yellow eye-shine.

They are restricted to upland tropical rainforest in north-east Queensland.

In the right habitat, they can be locally common.

They are the only rainforest possum that regularly hangs out in groups.