Eastern Water Dragon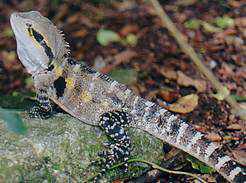 Eastern Water Dragon (Physignathus lesueurii)
Markings:
It is an impressive lizard that grows up to 20 cm with a strong long tail that grows 2.5 times the body length.
Males can be distinguished by their larger size and red chest. (Source: Environmental Protection Agency)
The tail is compressed laterally for swimming, a skill is uses to escape threat and/or danger.
The nostrils of the water dragon are specially placed on top of its snout as an adaptation to its aquatic habits.
It is the largest dragon lizard in Australia, growing up to one metre in length (including their long tail). (Source: Environmental Protection Agency)
Habitat:
Found all along the east coast of Australia, normally found around creeks, rivers or lakes.
The water dragon is quite well known, as it is common where it is found and is quite easily seen running from a disturbance towards water.
The lizard can remain submerged for up to 30 minutes and rise to the surface, where it can breathe while checking the area for danger before emerging back onto land.
The eastern water dragon frequents braches overhanging the water, dropping in if disturbed, sometimes from quite a height. It feeds on a variety of insects and aquatic organisms, including frogs, as well as fruits. (Source: Environmental Protection Agency)
Viewing Opportunities:
On the log pile at Chambers Wildlife Rainforest Lodge.
The turtle viewing area at the Lake Eacham lake front.
On the lake's edge during a Lake Eacham or Lake Barrine perimeter walk.
The Eastern Water Dragons are excellent at concealing themselves, making them difficult to spot at times.
Here is one on the log pile at Chambers Wildlife Rainforest Lodges.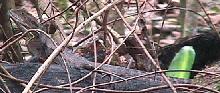 Additional Information:
They have big, fat heads and large, slightly laterally compressed bodies and tails. There is a row of spines beginning on the back of the head and leading down along the back.

Eastern Water Dragons are found along the wetter east coast of Australia.

As the name suggests, they spend much of their time around water such as lakes or streams.

If threatened their first reaction is to run and jump in the water.

They are often perched just near or above water, so if disturbed, merely plop into the water.

The genus is found in tropical Asia, with only one species reaching into Australia.
Script: Courtesy of Damon Ramsey BSc.(Zool) Biologist Guide