Red-Bellied Black Snake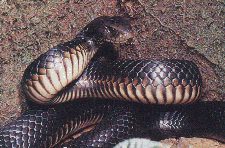 Photo: C & D Frith
Australian Tropical
Reptiles & Frogs

Red-Bellied Black Snake: (Pseudechis porphyricus )
This is one of eastern Australia's best known larger venomous snakes.
Although its venom is not lethal it should be treated as such and a bite should be treated seriously. Their venom is Haemotoxic and Cytotoxic.
There is no record of any human ever having died from the bite of a Red-Bellied Black Snake.
Markings:
The common name originates from the slightly pinkish colour of its ventral (underside), scales and the first row of its lateral (topside) scales.
It is jet black in colour with a paler brownish snout.
The underside of the tail is blackish
Habits:
It is not aggressive and is not eager to cause a disturbance and attack. When it is provoked, it will recoil into its striking stance as a threat but will try to escape at the first opportunity.
It is a diurnal snake that is usually associated with streams and water bodies or other well watered areas such as rainforests.
When not hunting or basking it may be found beneath timber, under rocks or down holes and burrows.
Diet:
this includes ; frogs, snakes , lizards, birds, mammals and some fish.
Size:
Adults average a length of 1.5 meters but healthy specimens can reach 2.5meters.
Young hatch from membranous sacs and are laid in clutches of 12 to 20.
The Red-bellied black Snake is unusual because of the fact that,
the young are born live, in a clutch of 12 to 20 individual, milky, transparent
membranous sacs and there is no incubation period.
The Young break out of their sacs at birth.
Viewing Opportunities:
The Red-Bellied Black Snake can be seen, escaping your approach, during rainforest walks.
They are found in Northern and eastern Queensland as well as New South Wales, Victoria ans southern South Australia.
Additional Red-Bellied Black Snake Photos